On an unusually hot Monday evening in Seattle, people gathered at a small restaurant in the Capitol Hill neighborhood over good food and in the service of a good cause. The members of Seattle 500 Women Scientists hosted a fundraiser to help support the Northwest Immigrant Rights Project (NWIRP). The venue was Cook Weaver, headed by chef Zac Reynolds and billed as "combining the seasonality of our region with bold flavors from the world's pantry".
The evening kicked off with a speech from Malou Chávez, deputy director of NWIRP. She spoke about the breadth of work that NWIRP does, ranging from impact litigation to change laws and policies affecting immigrants, to legal representation for those seeking asylum, facing deportation, or applying for DACA or other legal protections. Malou recalled the confusion and urgency of going to SeaTac Airport on the night that the first Muslim travel ban was announced, to help those travellers that were stranded or detained. These same immigration issues also affect scientists, many of whom are immigrants in the U.S. for work or study; they need to travel for their scientific work, or simply to visit family back home. She also reminded us that these problems did not only arise in the past two years, and there will still be work to do under future administrations as well. Malou exudes an infectious joy and enthusiasm for her work that brightened the whole restaurant.
Dinner was served buffet style from the Cook Weaver kitchen and the guests had the opportunity to mingle and discuss their own personal connections to the immigration issue, or to other activist communities. Plates were filled with Malaysian fried chicken, pulled pork with masa dumplings, corn salad with strawberries, roasted broccoli and baby zucchini, and more. Wine was poured liberally (pun intended).
After dinner there were a few additional short, but emotionally dense, presentations. Lilly Fowler spoke about her work researching and reporting on the immigration crisis for Crosscut, and also about what it means to her personally having been born in Mexico and raised near the U.S. border.
Jessica Goldman, a lawyer doing pro bono work with NWIRP, spoke about her experience with becoming an immigration lawyer overnight. She told the story of working to get Maria, a mother and asylum seeker detained in SeaTac, successfully released. Maria has now been reunited with her children, who were separated from her for eight weeks.
Susan Schulkin spoke about having welcomed three immigrant women into her home when they were released from detention. She helped them get clothing and other necessities, fed them, and assisted them with their travel arrangements so they could fly to the locations where their children had been transported. Susan spoke about recognizing the humanity in everyone, the importance of small things in making people feel welcome, and advised us all to "get proximal" to the issues we care about.
Finally, over a creamy coconut chai dessert, Tae Phoenix played a set of folk music that drew a few tears, lifted the room, and elicited loud cheering by the end. In all, the evening raised over $4700 for NWIRP.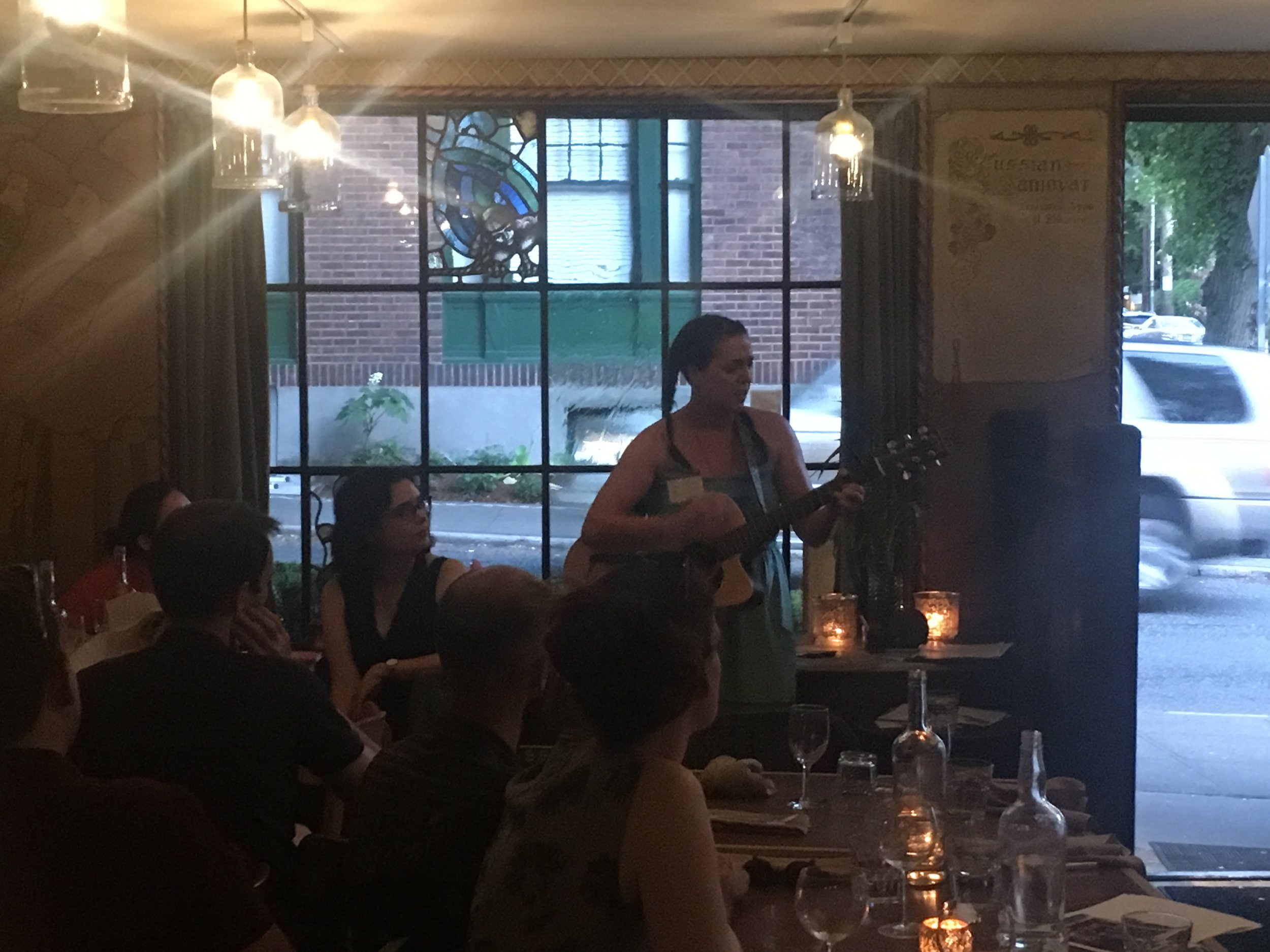 The connection between science and immigration is not an abstract one. In fact, immigrants are crucial to scientific research and technological innovation in the United States. It is estimated that about a quarter of the entire college-educated workforce in STEM fields in the U.S. is foreign-born. Although many scientists are not immigrants, every single one is surely working with immigrant colleagues. About half of the immigrant scientists who come to the U.S. to obtain doctorate degrees end up staying here to develop their careers, and contribute to making the U.S. the world leader in STEM education, research, and development. About a third of American Nobel laureates were actually born outside the United States. What's more, science is an international enterprise that crosses borders and oceans. American scientists collaborate regularly with colleagues around the world, publishing papers together, sharing data, and trading ideas at international conferences. If we want to maintain the status of the U.S. on the global scientific stage, we must keep our borders open to foreign-born scientists at all stages of their careers. More broadly, the targeting of certain nationalities, religions, and races, and the separation of families at the border are serious human rights issues. The work of NWIRP intersects deeply with the mission of Seattle 500 Women Scientists.